Advanced Technology for Exceptional Care
In addition to making dentistry more efficient and interesting for us, advancements in dental technology also improve your experience as a patient. Whether they're saving you time, keeping you comfortable, or giving you the smile of your dreams, the state-of-the-art amenities at our dental office will completely change the way you think about going to the dentist.
Laser Dentistry
Laser dentistry is not only more comfortable than traditional dental surgery—it's also more convenient. The versatility of dental lasers enables our dentists to perform many complex procedures in our dental office, so the days of referrals, specialists, and driving all over town to get the treatment you need are history.
Extraordinary Precision
No Shots or Noisy, High-Speed Drills
More Comfort & Convenience for You!
Back to Top ↑
Hard Tissue Laser
Our dentists use a hard tissue laser to gently prepare teeth for fillings. By combining laser energy with a gentle spray of water, our hard tissue laser removes areas of decay while leaving healthy tooth structure intact. Many people don't even need anesthesia with laser dentistry, so you'll be out of the dental chair and back to your busy life before you know it.
Soft Tissue Laser
Soft tissue lasers shorten the duration of almost any gum or soft tissue procedure that usually requires a scalpel and sutures. Soft tissue lasers are especially useful in gum disease therapy, because the high-intensity laser energy has been proven to kill bacteria and promote the regrowth of soft tissue cells. Because they eliminate the need for scalpels and sutures, lasers also help minimize pain and speed the healing process.
Dr. Testa and Dr. Williams use soft tissue lasers in deep cleanings, gum disease therapy, cosmetic gum reshaping (for "gummy smiles"), and even in the treatment of cold sores and canker sores.
Back to Top ↑
OraVerse® Anesthesia Reversal
With our convenient early morning appointments, you can fit in the dental treatment you need before you head to work. But what about the lingering numbness and slurred speech? OraVerse reverses unwanted numbness almost twice as fast as it naturally subsides, so you can enjoy a cup of coffee and feel confident smiling in your morning meeting.
Isolite: Less Time, More Comfort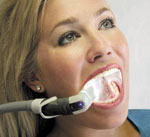 Tired of long dental visits and the aching jaw that comes with them? The revolutionary Isolite™ system will completely change the way you think about going to the dentist! Isolite's soft, flexible mouthpiece lets you rest your jaw during treatment, and it also illuminates your mouth from the inside so we can work more efficiently.
Laser Cavity Detection
Diagnodent® scans teeth for hidden decay, often detecting cavities long before they can be seen by the naked eye. When our dentists catch a cavity early, they can usually place a smaller filling and preserve more of your natural tooth.
Back to Top ↑
Digital X-rays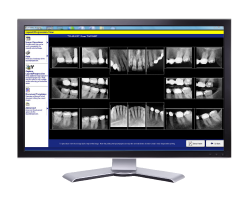 Dental X-rays have come a long way since the days of heavy lead aprons and loud, slow machinery. Not only do our state-of-the-art digital X-rays emit significantly less radiation than conventional X-rays, but they're also faster and more comfortable too! With no lengthy chemical processing required, the images are available on our computer screen within seconds.
We use digital X-rays in dental exams of patients of all ages, because many problems with the teeth and surrounding tissues cannot be seen by the naked eye. X-rays are needed to reveal:
Deep Cavities & Decay Between Teeth
Decay Below Existing Restorations
Infections in the Jaw Bones
Abscesses, Cysts, & Some Tumors
Developmental Abnormalities
Back to Top ↑
Intraoral Cameras for Patient Education
Like dental X-rays, digital photographs taken with our intraoral cameras are a useful diagnostic and patient education tool. Our dentists use these photos to show you what they see during your exam and to guide you through your diagnosis and treatment options. The photos also enable them to assess hard-to-reach areas (like the back molars) that can be difficult to see during a standard visual exam.
Technology for Cleanliness & Safety
We surpass ADA and OSHA recommended standards to make River Oaks Dental Arts a clean and safe place for your family. Before your visit, we thoroughly sanitize each treatment room and disinfect every piece of equipment using sophisticated sterilization technology. We also perform routine spore testing through an independent third-party laboratory to ensure that all of our sterilization equipment is working properly.
Back to Top ↑